1881
MARINE STEAM & WATERWORKS PUMPING ENGINES.
John Inglis and Co.
John Inglis and his sons relocated their grist and flour mill machinery business from Guelph, Ontario to 37 Hanna Avenue. John Inglis and Co. went on to manufacture marine steam engines and waterworks pumping engines for Canada Steamship Lines' Hamonic and Huronic.
1904 – 1944
MATERIALS OF WAR.
World War I & II.
John Inglis and Co. was purchased by Major J.E. Hahn, who used the site to manufacture war materials. During World War I, the company manufactured war materials such as shells and shell forgings, and produced over 60% global output of Bren Light Machine Guns during World War II.
1945
HOME LAUNDRY PRODUCTS.
Whirlpool Canada.
After the war ended, the company began to manufacture consumer products such as fishing tackles, house trailers, oil burner pumps and domestic heaters and stoves. John Inglis Co. Ltd moved on to dealings with Nineteen Hundred Corporation, now Whirlpool Canada, to manufacture home laundry products.
Late 1900's to early 2000's
FACTORIES,RESEARCH,RETAIL & COMMERCIAL OFFICES
Commercial Leasing.
The Canadian Government, acquired the land and slowly began to lease the infrastructure to many tenants, including John Inglis and Co., The Railroad Club and the Toronto Carpet Factory. Several tenants purchased the property and retained ownership until 2004.
2004
LIBERTY MARKET BUILDING.
Liberty Market Complex – Phase I.
Lifetime Developments acquired the property and named it Liberty Market Building. Under the direction of architect George Popper, the building underwent an impressive multi-million dollar renovation which revitalized over 300,000 sq. ft. of commercial space.
2004
ART OF SPEED
Nike
Liberty Market Building was used as Nike's venue for their "Art of Speed" lifestyle event. As "speed" was Nike's performance theme for the 2004 Olympic Games, the event showcased talent through the lens of speed integrating music and film. Local photographers, designers, a live graffiti muralist and screenings from international and local filmmakers welcomed 400 guests at this one-night only event.
2009
LIBERTY MARKET LOFTS.
Liberty Market Complex – Phase II.
A few years later, Lifetime launched Liberty Market Lofts with a residential development on a site adjacent to Liberty Market Building. The completed Liberty Market Lofts boast award-winning designs by Wallman Architects, and 295 loft-style, live-work residences that feature two-storey layouts.
2015
MIXED-USE BUILDING.
Liberty Market Complex – Phase III.
In October 2015, a Zoning By-law was enacted which granted Lifetime Developments permission to build a 28-storey mixed-use building "addition" over a portion of the existing Liberty Market Building. Thus, securing the third phase of the Liberty Market Complex.
2016
LOVE LIBERTY & HUSTLE MURALS.
Ben Johnston
Ben Johnston was challenged to create a strong statement for the neighbourhood that would capture its urban vibrancy, industrial history, entrepreneurial culture, and the resounding sense of pride within the community. "Love Liberty" and "Hustle" murals were added to Liberty Market Building, where visitors alike can snap pictures of the murals using the hashtag #LOVELIBERTYTO.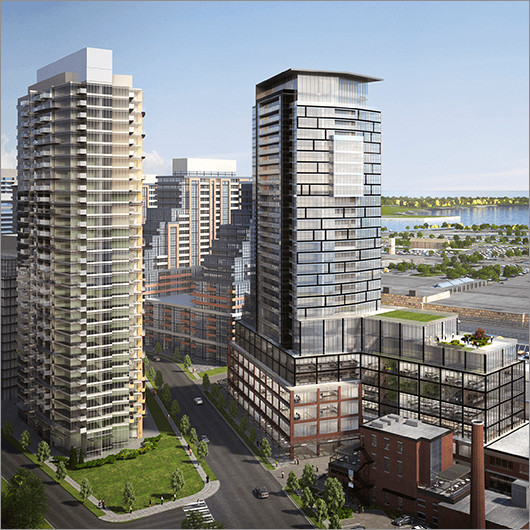 2018
LIBERTY MARKET TOWER.
Lifetime Developments.
Following the success of the Liberty Market Lofts, Lifetime Developments is currently preparing for the anticipated launch of Liberty Market Tower. Located on the eastern edge of the Liberty Market Building land, the development will boast a distinctive 28-storey residential building with ground-floor retail and office space.